Bruja Guide: How to keep your shit together at work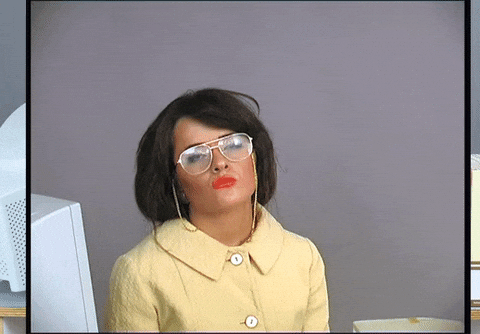 Bruja listen...I know it's rough but we all have to pay those bills, feed those beautiful Indigo babies, buy more crystals and put money away for your much deserved meditation retreat- so here's how to keep your shit together while at work.
Meditate as much as you can
Start a morning meditation practice to help get your spirit and let's be honest, attitude, in order before you step through those sliding doors for the next 8 hours of your life. And in some cases 10, 18 or even 24 hour shifts. WELP. My heart and prayers go out to anyone who has to work that much. It ain't easy honey. Break up your lunch break into two 15 minute meditations (or breath work) and one 30 minute break to eat. Find a quiet place in the office where you can focus on bringing your blood pressure down, focus on your breath, or stop yourself from putting a hex on your boss. That's not the nice thing to do mi amor! Relax.
Sage the hell out of your day
I know it sucks that you can't keep an incense, oil lamp or bowl of herbs lit at your desk without getting a friendly reminder memo in your inbox on how you can do your part to prevent office fires. You can, however, sage yourself and your car to protect your energy and create a safe space within your vehicle - you know...in case you drive for a living, drive long distances to and from work, or just need to hide and cry every now and then between meetings. 
Step away from your desk 
Try your very hardest to walk away from your desk as much as you possibly can. Go outside and walk around the building, hug a tree, smell some roses, soak up the sun - then head back in with some of that nature juju all up in your spirit. Gaia is cool, she serves up positive vibes for free. I don't know anyone else who does that. 
Bring your crystals to work
Place Shungite, Obsidian or Black Tourmaline around any electronic devices that you interact with while at work. Please don't bring your 7 lb piece of Obsidian to place on the conference room projector. I mean, unless you work at Google or somewhere cool where people won't give you the side-eye. I mean, who knows, maybe Google folks will give the side eye. Anyone work at Google??? Keep a piece of black tourmaline in your pocket to keep the vamps away, wear a Kyanite necklace if you need help communicating your thoughts, and decorate your desk with some Amethyst, Citrine, and Pyrite to promote tranquility, energy and attract more money! 

Banish negativity
Co-workers trying to sabotage you? Egg em. Place an egg inside a cup of water and place it under your desk (away from any electrical cords or devices) to absorb negative energies being sent your way. Swap out the egg and water weekly until things calm down. Use light and intention to cast a protection circle around your desk. If all else fails, send them love. No better way to fight a negative person than to wish them well. 
Drink lots of water & tea
Fill your water bottle with crystal infused water to keep your vibrational energies popping. Need a little boost? Steep some green tea & add some mint leaves, and a drop of honey. Try to stay away from too much caffeine, it's just not good for you. AND definitely stop drinking soda. Your chakras will thank you later.
Well...that's all I got for now. Go get that money, honey!